You are here:
News >
Former ICRP Main Commission Member Angelina Guskova Passes Away
Former ICRP Main Commission Member Angelina Guskova Passes Away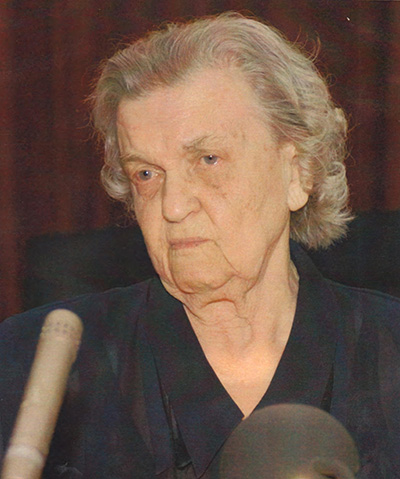 On 2015 April 7, at the age of 91 and after a long and serious illness, Angelina Konstantinova Guskova passed away in Moscow.
Doctor of medical sciences, and Corresponding Member of the Russian Academy of Sciences, she was the last of the pioneers of radiation medicine in the USSR.
In the 1950's Prof. A. Guskova was one of the founders of Branch № 1 of Biophysics Institute (now Southern Urals Biophysics Institute) in Ozyorsk, Chelyabinsk region. In the middle of the 50's she dealt with tens of Mayak workers who had a diagnosis of acute radiation sickness. Together with Prof. G. Baysogolov they created a system of classification of acute and chronic radiation sickness, for which they were awarded with the Lenin Prize in 1970.
Prof. A. Guskova made an invaluable contribution to the provision of medical care to victims affected by the accident at the Chernobyl nuclear power plant while working at the premises of Clinical Hospital No. 6 in Moscow. Under her guidance, medical treatment was provided to 134 patients with acute radiation sickness. Within several months after the accident Prof. A. Guskova prepared a report concerning the accident to UNSCEAR.
Prof. A. Guskova unhesitatingly devoted all her life to science. She was recognized in the international scientific community and all leading scientific organizations in every country welcomed her. She contributed to the scientific progress of international radiation medicine with all her creative life. Huge scientific range, unique clinical experience, and great responsibility allowed her to carry out several unprecedented in scientific importance research studies, then to introduce them into practice and to see the result - the faces of saved people.
Professor, doctor of science, Prof. A. Guskova was awarded with the Order of Lenin and the Order of Peoples' Friendship for her outstanding services; she was a Corresponding Member of the Russian Academy of Sciences. For many years she was a member of the Soviet delegation to UNSCEAR, and was a member of the ICRP Main Commission from 1989 to 1993. She was especially proud of the Gold Medal in Radiation Protection from the Royal Swedish Academy of Sciences, which she received in 2000.
Prof. A. Guskova was very busy with her hard work; she encouraged new ideas and communicated with young scientists with maternal affection and care. She created a scientific school in the field of radiation medicine, and brought up dozens of students - candidates and doctors of Sciences.
Prof. A. Guskova was such a great individual, the brightest star in the sky of radiobiology, and her light will shine forever for us.
In imperishable memory of Prof. Angelina Konstantinovna Guskova.
(Received from S. Romanov)